Colt Ralliart Big Brake Upgrade Wilwood
Wilwood / Hawk Big Brake Upgrade for your Ralliart Colt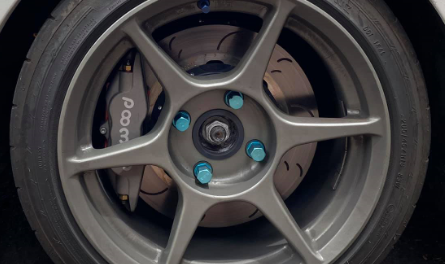 Finally got around to installing my big brake kit for my Mitsubishi Ralliart Colt, so I thought it was time for another post. In the last year or two since posting, I've changed rcolts to an extra minty white one, with painted flares.  I'll do an extended post on this new ride sometime soon, and talk through its mods. For now though, I'll focus just on the recent BBK brake upgrade.  The install was a bit of a pain, but got there in the end.
Specs
Wilwood superlite calipers (4pot),
Hawk discs (309mm 32mm thick 2 piece fixed)
MRP hats, brackets & braided lines
Circo M119 Road Rally competition pads
Install Notes
The kit uses a mix of imperial and metric parts. Given it's a colt I'll assume you'll have the metric stuff handy. You'll need the following imperial stuff – 1/2, 1/4, 7/16 spanners/sockets, as well as 3/16 and 1.4 (need to confirm?) hex.  You'll also need something like a 16mm drill bit to widen one of the brake line brackets off the strut & something like a 12mm cerclip (or something similar) to hold the brake line in the new larger bracket hole.
Install order is something like:
Remove calipers and brake lines & discs
Test fit dog bone, disc, caliper, brake lines
Check out the brake dust shield – you will want to consider removing or heavily trimming
Check how the brake line looks, you want to avoid hard turns/angles, and handle strut turning
Drill out the brake line bracket hole that leads to the caliper on the front. We used 16mm drillbit, in a vice.
Test fit brake line again, feeding it thru the larger bracket hole. On my car this showed we needed to relocate the stock brake line bracket lower by about 60mm. Made an additional bracket to lower the OEM bracket.
Lock the brake line into place with a cerclip or similar (if you just need something to get by, could use something very temporary like a cable tie)
From here its basically just double check things, put pads in, bolt it all up and do the bleeding (I did all wheels, starting furthest corner from the master)
There were few additional problems we encountered:
Brake fluid would leak out the back of the caliper where the brake line screws in. You need to do it up very tight – be careful of rounding the bolt. Test its not leaking by stomping on the brakes when stationary and inspect.
Brake pads were too tall. We had to grind off 0.5mm off my pads metal backing, on the top surface to get them to nicely click in.
Impressions
Bedded in – seems great, feel a bit firmer than stock but nothing too drastic. Seems to stop well but need a track day to really report on it. Pads are a quite a bit noisier, will need a softer setup for the street.  Have applied stop squeal which has made it bearable in the meantime.
Photos