Australian Ralliart Colt Turbo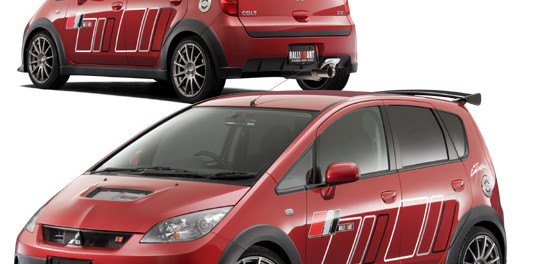 The Australian version of the Ralliart Colt turbo was released for sale in August, 2006 and was sold through to late 2011. Unlike many other budget hot hatches featuring only body kit & a set of mags, this pocket rocket was the real deal.  It had the obligatory body kit (featuring some aggressive wheel flares and an evo-style bonnet vent!), a MIVEC twin cam intercooled turbo 1.5, Ralliart tuned suspension, bigger brakes and a beautiful set of recaros borrowed from its elder brother the Evo 8 MR.
This is a good list, but there are a few other things that set the Ralliart Colt Turbo apart from the dressed-up hot hatches in its segment.  Starting with the bare chassis, they were separated out from the regular Colt manufacturing line and sent to Ralliart to prepare. There Ralliart added metal plates and additional welds to structurally reinforce and stiffen the Colt chassis. This additional chassis work resulted in the Ralliart Colt having the greatest torsional rigidity of any car Mitsy were selling at the time.  Once this had been completed the improved chassis was sent back to the Mitsubishi line for final assembly.
The 5 speed gearbox is a strong GETRAG unit, very similar to the units used in the BMW Mini Cooper S's. A testament to its strength is the fact that Australia's fastest modified Ralliart Colt, with a massive 285kW @ the front wheels still runs the original gearbox.  Having same design as the Mini Cooper S 'box means that LSD's designed for the Mini, can also fit the Ralliart Colt.
One of the things that can take some getting used to is the tall body design that the Ralliart Colt inherits from is humble Colt origins.  Despite this, it handles very well and and is a lot of fun point to point.  In a Motor Bang-For-Your-Buck test, it was faster around the test track than the 2006 Ford Focus XR5, so don't let the body shape fool you.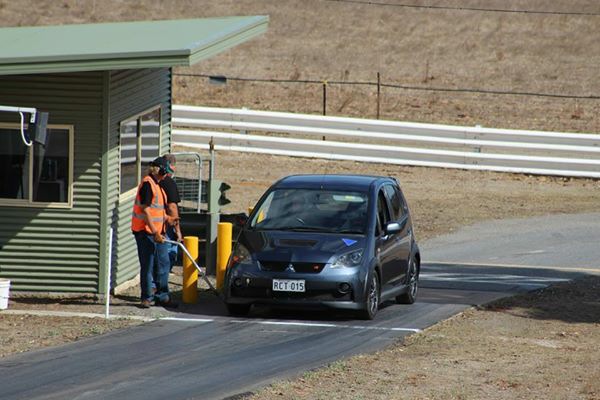 The 1468cc twin cam MIVEC turbo engine in stock trim puts out 113-115kw @ at 6000rpms (210NM @ 3500rpm).  The 4G15T engine features a weight-saving hollow camshaft, low friction pistons and stronger drivetrain mountings.  Stock Ralliart Colts usually dyno around 90-95kW at the wheels.  This may not seem like much, but with a kerb weight of 1130kgs, even in stock trim the Rcolt performs well.  Things really start to get exciting though, when you make a few basic modifications. There's a boost restrictor pill, which can be removed to provide an instant improvement in peak boost (read up on this at www.rcolt.com).
Then the ECU is very similar in design to the EvoX ECU, being an M32R processor.  Like the EvoX it can be flash tuned using a Tactrix OpenPort2 device (~$250AUD) & free software EcuFlash.  There is a free opensource tune available called the 'Macca Flash' and is a good starting point – think of it as a stage1 flash tune.  With this, and the following mods :
K & N panel filter
Upgraded recirculating blow off value (EVO MR or Turbosmart)
Grimmspeed 3 Port Boost Control Solenoid
An Australian Ralliart Colt turbo will put out between 110kW and 120kW at the wheels.  Total cost for this will be low, especially if you're prepared to DIY it ($300 – $500).
What if you want more? There aren't many bolt up turbo options, but a front mount intercooler, upgraded fuel pump and a turbo back exhaust will net you in the range of 130-144kW at the wheels.  In terms of power to weight, this is pretty decent.
So that's enough on the specs and performance potential.  Fuel economy? Stock you can expect a combined cycle of 6.7L/100km.  Reliability? Pretty darn good. There are modified Rcolts driving round that are getting very close to 300,000km's, and apart from the usual maintenance, have been easy care.
But, I need to also give you a disclaimer. In the early days of rcolt.com, there were a few Ralliart Colts that suffered engine failures.  It's widely reported that this was due to a poor aftermarket ECU, too much boost and/or a tune that was too aggressive.  Unfortunately, it's the pioneers that learn the tough lessons. If you're into DIY -read up, learn the ins & outs and don't rush things.  If you're happier having someone else to do the mods then make sure it is a reputable tuner who has experience with these cars.  Do these things, and you'll have trouble free motoring.
Finally, what do they sell for?  There's a pretty wide range of prices on the market at the moment.  Some as low as $6000, to as high as $15,000.  For a good one with lowish km's expect to pay between 8 & 12k.
This is pretty cheap for a modern turbo car that will surprise you and anyone you meet on the road.   But don't just take my word for it, here's some reviews:
http://www.autospeed.com/cms/article.html?&title=Mitsubishi-Colt-Ralliart&A=108017
http://www.caradvice.com.au/1028/2006-mitsubishi-colt-ralliart-road-test/
http://www.motoring.com.au/reviews/2006/small-passenger/mitsubishi/colt/mitsubishi-colt-ralliart-1562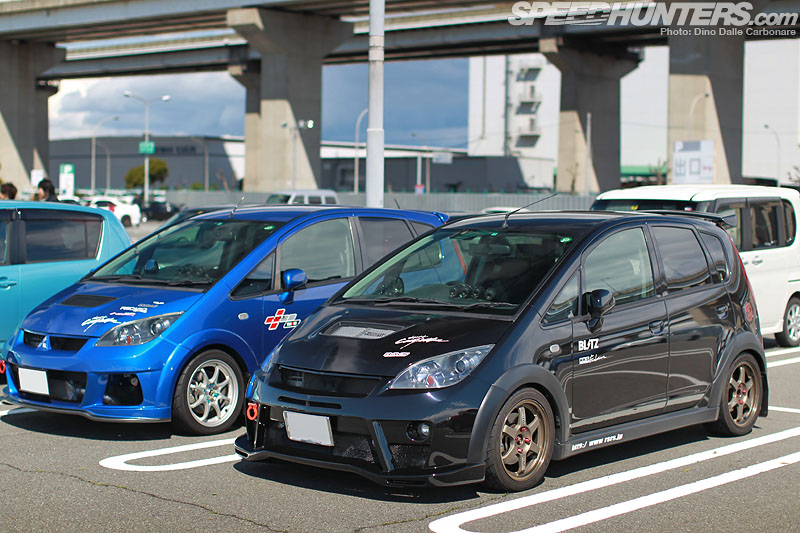 Any questions, check out the websites above, go to www.rcolt.com or hit me up in the comments & I'll do my best to answer.